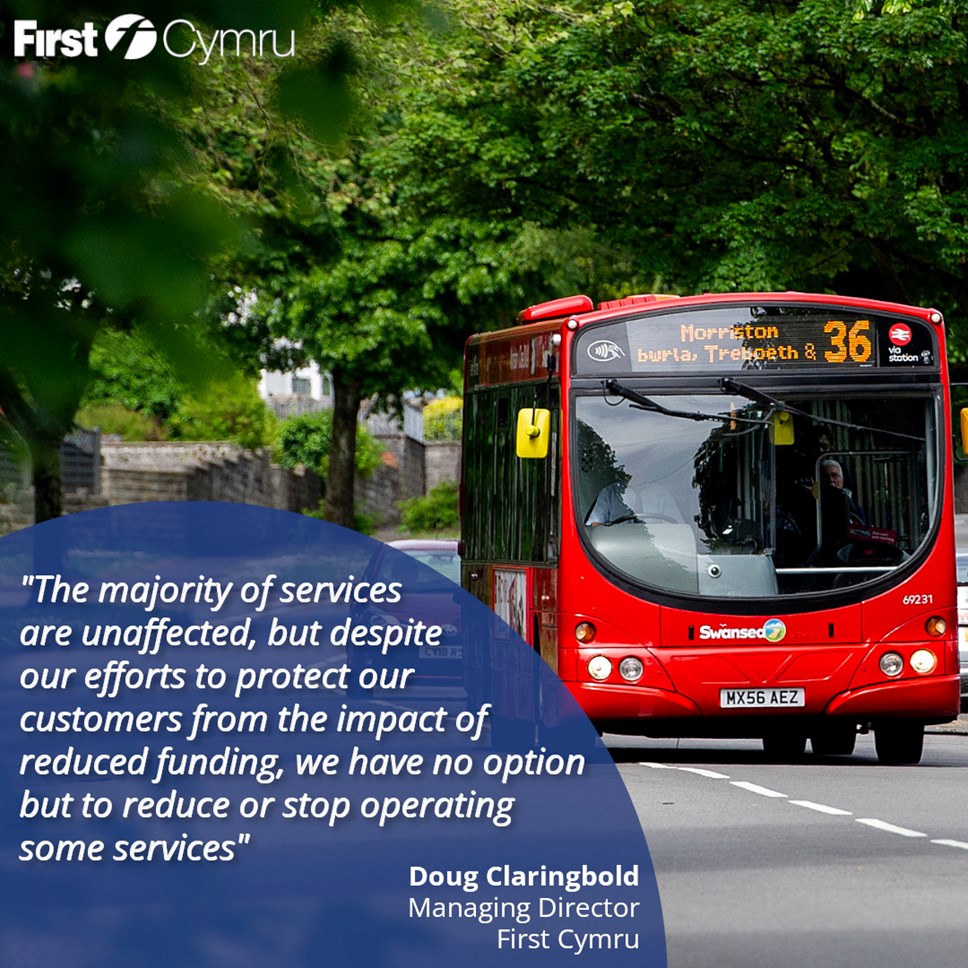 Changes to bus routes in south and west Wales
In response to reductions in Welsh government funding for buses, First Cymru has today had to announce changes to some of its services in south and west Wales from Sunday 29th October.
First Cymru has been tasked by south and west Wales' local authorities to reduce its bus network in accordance with reduced public funding. Passenger numbers remain well below previous levels, particularly for concessionary card holders.
The majority of services will not be impacted, and where possible, frequencies and hours of operation will be reduced in order to avoid routes being withdrawn. However, some services will stop operating.
First Cymru's Managing Director, Doug Claringbold, said some changes to the network in south and west Wales were inevitable after the Welsh government announced the lower levels of support, which is essential given the significant, ongoing drop in passenger numbers.
He said: "The majority of services are unaffected, but despite our efforts to protect our customers from the impact of this reduced funding, we have no option but to reduce or stop operating some services.
"We recognise the Welsh government has had some tough decisions to make as it changes the way it funds bus services. At the same time, we share the disappointment customers will feel from the knock-on impact that will have on some routes. We are committed to getting more people to use the bus, and adequate levels of funding are essential where passenger numbers are below the cost of operating services."
Notes to editors
These changes in Cymru come three months after the Welsh government published details of its Bus Transition Fund (BTF), which replaced the funding available through the Bus Emergency Scheme and was set up to provide financial support to operators in response to lower bus use as a result of the pandemic. In announcing the BTF scheme, Deputy Climate Change Minister Lee Waters said the revised scheme would protect the majority of services, but acknowledged that some services would change.
New timetables are available on First Cymru's website. Passengers are advised to check timetables before travelling when the changes come into effect.
First Cymru operates 108 routes in south and west Wales.
More detail about some of the changes coming into effect on 29th October:
Nine services are being withdrawn: services 11, 23, 32, 44, 110, 2B, and 2C in Swansea, and services X28 and X29 in Carmarthenshire.
Service 56 in Neath Port Talbot will not operate Monday to Saturday, but will operate to the existing timetable on Sundays and Public Holidays.
The Saturday timetable will be removed from service 29 in Swansea.
A Sunday service will no longer operate on service 28 in Swansea, and services 38, 87 and X1 in Neath Port Talbot.
Service 2A in Swansea will not operate Monday to Saturday, but will instead be covered by service 2. The Sunday timetable will continue to operate.
Reduced bus frequencies will affect services 3A, 4, 6, 12, 13, 16, 20, 20A, 21, 25, 33, 34, 36, 111, PR1, PR2 and X6 in Swansea; services 81, 82, 87, X1 and X3 in Neath Port Talbot; service 349 in Pembrokeshire; and services L1, L2, X11 and X13 in Carmarthenshire.